Clarinda, RN – CL Fabrication is focused on producing quality products that showcase strength and stand up to the toughest jobs. They have been in the manufacturing industry for years and have launched several products that give complete satisfaction to their customers. More recently, the company updated its website with new information about its Auger Drive product. The goal remains to maintain transparency while delivering superior products that customers can rely on at all times.
The latest update to the company's Auger Drives product page brings new products to market for customers looking to update their inventory. The product page features the High Torque Compact Planetary Gearbox with Eaton motor. The product comes with a 2 piece shaft design which ensures maximum side loading without increasing the load on the bearings. Certifying the quality of the product, the company offers a 5-year warranty on the gearbox and a 3-year warranty on the engine. Additionally, customers also enjoy a lifetime warranty on shaft extraction.
Speaking about the product designed for skid steer loaders, the company spokesperson noted that their new high torque compact planetary gearbox with Eaton engine is a TRU CUT with a 12″ tractor auger that cuts a 12″ hole, ensuring that users no longer have to deal with oversized holes. The product also has teeth that are easy to attach and detach with a process that does not require special tools.
The manufacturer, describing the new product, noted that it features an extremely efficient cutter head design and optimum flight pitches to provide maximum ground removal in all ground conditions. Customers can also expect to find hoses and quick couplers included with their purchase from CL Fabrication.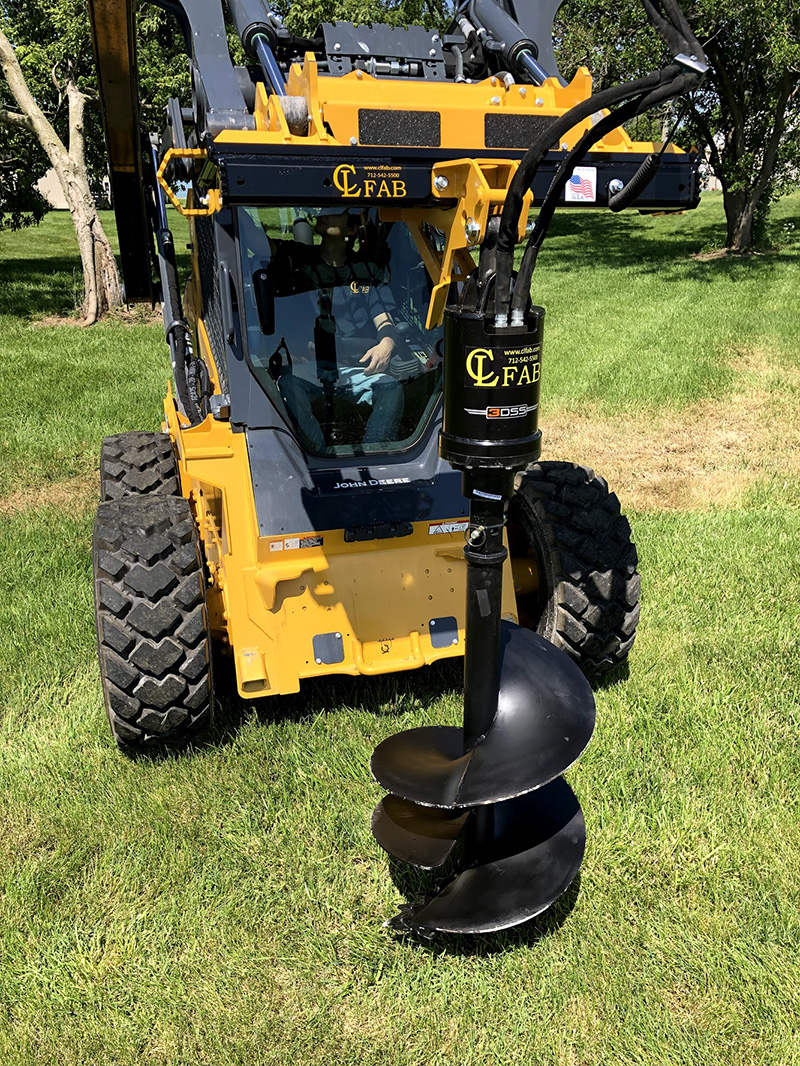 CL Fabrication reiterates that all of its products, including the Post Hole Digger, are made in the USA and designed to last longer while providing value to users. Customers are encouraged to browse their product page for the various options available, pricing and the product brochure. The manufacturer also offers different types of augers to meet specific needs. Common types they offer include the general purpose auger and the combination rock and dirt auger.
In addition to their selection of augers, CL Fabrication also offers other hitch products for tractors or heavy machinery such as the bale unroller, the dominant tree extractor, the EZ grapple, the EZ rock bucket, the forks EZ-Pallet, EZ Skid Steer Hitch, Tree Shovel, Stump Bucket, Grapple Guard Combo, Skid Steer Auger Drives, Heavy Duty Buckets, XR Ripper, EZ Snow Pusher, and more Again.
Buyers can visit CL Fabrication's website for more selection of top quality products offered at great prices. The company is located at 420 S 8th St, Clarinda, IA 51632 US, and can be reached by phone at 712-542-5500.
Media Contact

Company Name
CL Manufacturing
Contact Name
Curtis Hull
Call
(712) 542-5500
Address
420 S 8th Street
Town
Clarinda
State
AI
Postal code
51632
Country
United States
Website
https://clfab.com/